For the 2021-2022 School Year
Open registration has begun! Availability will be based on a first-come, first-served basis. Once classes are filled, any persons interested in registering their children will be placed on the waiting list.


Non-refundable registration fee is due with the application to hold your child's spot. A non-refundable $20.00 supply fee will be collected bi-yearly in August and January. There is a 10% discount for siblings.
Click here to register for the 2021/22 school year

Registration Fees
Early Registration Before March 1, 2021, $75


Registration After March 1, 2021, $100


Family Registration (Two or more children) $100


Family Registration (Two or more children) After March 1, 2021, $125

Class Options
Classes are 9:00 a.m. - 1:00 p.m.
One Year Olds: 2, 3, or 5 Days a Week


Two Year Olds: 2, 3, or 5 Days a Week


Three Year Olds: 2, 3, or 5 Days a Week


Four Year Olds: 3 or 5 Days a Week
Our class age enrollment follows the Cabarrus County Kindergarten entrance dates. The age cut-off for each class is August 31st. NO Exceptions.
Children in the 3 - 4 year old programs MUST be potty trained.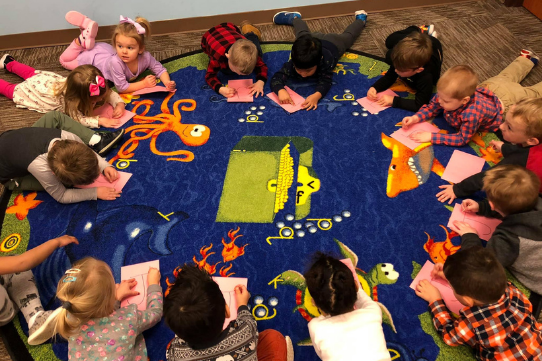 2021-2022 Monthly Tuition Pricing
Preschool ONLY

9:00-1:00

Before School & Preschool

8:00-1:00

Preschool & After School

9:00-5:00

Full Day

8:00-5:00

2 Days
$190
$230
$355
$380
3 Days
$255
$305
$480
$505
5 Days
$405
$480
$655
$680
For more information on our preschool, please email Sarah Chapman or Stephanie Reagan.

Kindergarten Class Information:
Connect Christian Preschool is excited to announce that we will be opening a Kindergarten Class for our Connect Christian School starting August 16th. Our kindergarten class will run from 8:00 a.m. -1:00 p.m. Monday - Friday. Our Connect Christian School teacher will be certified in the field of education and will have an assistant. We will have 14 spots for the kindergarten class, and if needed two classrooms could be formed.
We are excited to open this new opportunity and registration is now open!
Following North Carolina Kindergarten entrance dates - Children must be 5 years old by August 31st - NO Exceptions
Connect Christian School Kindergarten classroom will be $575 each month. Kindergarten students will have a $30 supply fee in August and January. We are so excited about this new opportunity at Connect. More information and details will be released soon.