Connect Christian Preschool is a non-profit, Christian Preschool offering early childhood education to children from 12 months to 5 years old. Our experienced and loving staff offers every child a safe and happy environment in which to grow, explore, and learn.
Our teachers focus on the social, emotional, physical, cognitive, and spiritual development of each child using developmentally appropriate curriculum. Our Preschool uses Phase curriculum and our Pre-K uses Handwriting Without Tears. Every class offers unique teaching themes tailored to suit the age and interests of our children.
Each classroom uses academic and Christian curriculum to introduce educational concepts including colors, shapes, numbers, and the alphabet.
We are privileged to have the opportunity to share Jesus with each child through Biblical teaching, prayer, chapel, and music.
We offer 2, 3, or 5 days a week and all classes are 9:00 a.m to 1:00 p.m. Our class age enrollment follows the Cabarrus County Kindergarten entrance dates. The age cut-off for each class is August 31st. Before and after preschool care is available at an additional cost.
One Year Old Class
Come explore our great, big world! Infants and toddlers are encouraged to touch, feel, see, smell, and hear through creative play. Class Size 8:2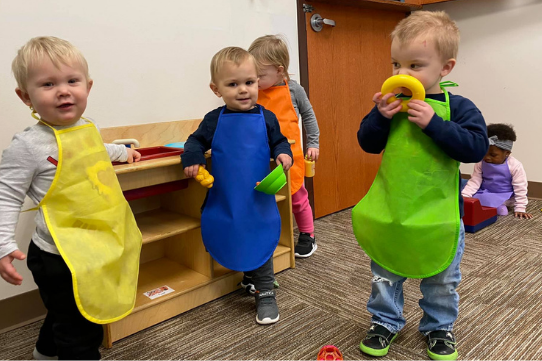 Two Year Old Class
Look what I can do! Learning the do's and don'ts of our active world becomes child's play in this fun and inviting class using circle time, music and movement, and expressive play. Class Size 12:2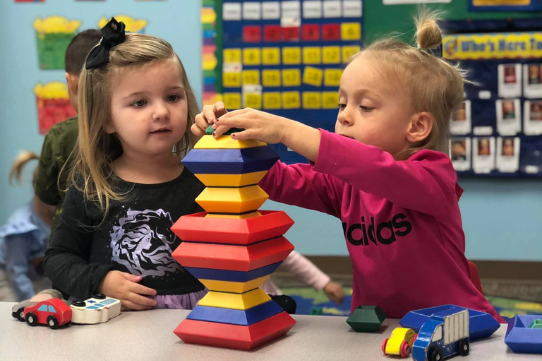 Three Year Old Class
ABC's and 123's! This highly energized class puts busy hands and minds to work learning academic basics, spiritual concepts, and good neighbor rules through interactive art, music, and drama. Class Size 15:2

Four Year Old Class
All grown up! This program will focus on developing social, listening, and self-help skills. Cognitive skills will be developed through language, math readiness, science, music, and art, all interspersed with exciting extracurricular field trips. Along with Essentials curriculum, this class also uses the Pre-K level of Handwriting Without Tears. Class Size 20:2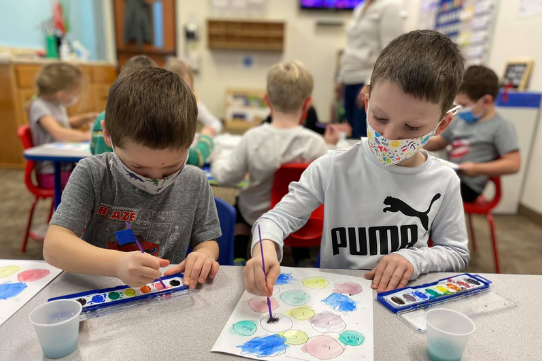 Kindergarten Class Information
Connect Christian Preschool is excited to announce that we will be opening a Kindergarten Class for our Connect Christian School starting August 16th. Our kindergarten class will run from 8:00 a.m. -1:00 p.m. Monday - Friday.